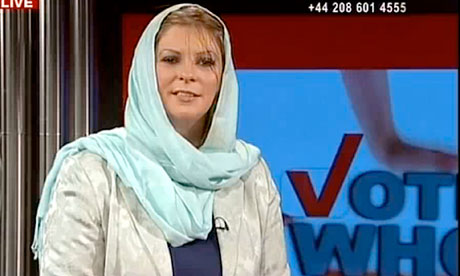 Photo:
http://www.guardian.co.uk/politics/2010/oct/24/lauren-booth-converts-to-islam
.
Iran
trip prompted
Journalist
Lauren Booth
to become a
Muslim
and wear a
Hijab
Lauren Booth
, who has become a
Muslim
.
Tony Blair's sister-in-law converts to IslamIran trip prompted
journalist Lauren Booth to become a Muslim and wear a hijab
By: Helen Carter guardian.co.uk, Sunday 24 October 2010
Lauren Booth speaks on Press TV, an Iranian associated TV news channel
Tony Blair's sister-in-law has converted to Islam after having what she describes as a "holy experience" during a visit to Iran.
Journalist and broadcaster Lauren Booth, 43 – Cherie Blair's sister – now wears a hijab whenever she leaves her home, prays five times a day and visits her local mosque whenever she can.
She decided to become a Muslim six weeks ago after visiting the shrine of
Fatima al-Masumeh
in the city of Qom.
"It was a Tuesday evening and I sat down and felt this shot of spiritual morphine, just absolute bliss and joy," she said in an interview today.
When she returned to Britain, she decided to convert immediately.
Source:
celebrifi.com/gossip/
.
---
Press TV-Remember Palestine-Israeli Attack against Gaza Freedom Flotilla-06-05-2010(Part1)
In late May 2010, Israeli navy forces attacked the Gaza Freedom Flotilla, that was seeking to break Israel's crippling blockade of Gaza and deliver basic necessities to impoverished Palestinians in the coastal enclave.
---
LONDON 26 Okt. - Adik ipar Tony Blair, Lauren Booth kini memeluk Islam kerana kagum dengan kesucian agama itu selepas melawat Iran enam minggu lalu.
Booth yang merupakan seorang wartawan penyiaran berkata, beliau mendapati Islam banyak memberi kebahagiaan dan ketenangan kepada umatnya.
"Nama saya ialah Lauren Booth dan saya adalah penganut agama Islam.
/www.utusan.com.my